The August 2020 Annual CAPACS Board Meeting will be Conducted via Secure Zoom Videoconference
The Annual CAPACS Board Meeting will be held on Monday, August 10th, 2020, between 12:00 PM – 4:00 PM, Eastern (11:00 AM - 3:00 PM, Central; 10:00 AM - 2:00 PM, Mountain; and 9:00 AM - 1:00 PM, Pacific). This corresponds to 6:00 - 10:00 PM, for Johannesburg, South Africa.
The Commission will email an invitation to all participants who registered on Doodle with the Zoom password and instructions for admission to the meeting prior to the scheduled date. Please note the following:

Zoom Video Communications has implemented new security protocols for conducting videoconferences. Zoom Meeting Passwords and Virtual Waiting Rooms will be enabled to "On" by default and associated with the Commission's Zoom Meeting ID in the invitation. A Zoom password will be generated automatically in the invitation with the join URL to allow only invited parties to join the videoconference from the virtual waiting room. Unwanted parties will be locked-out, reported, and removed.
For other meetings, such as instant meetings, the Commission's password will be displayed in the Zoom Client or on the Zoom Rooms Controller.
The Zoom Download Center has Zoom client, browser extension, and plug-in software for scheduling, hosting, and joining Zoom videoconferences in Chrome, Firefox, Microsoft Outlook, IBM Notes, and mobile devices. Alternatively, Commissioners can access the Commission's Zoom Meeting room by navigating to the Zoom website.
For additional information on Zoom privacy and security enhancements, please click on the following link: Zoom | Privacy and Security.
CAPACS Annual Board Meeting at ASA in San Francisco -- Cancelled
On Tuesday, April 28th, 2020, Meeting Services for the American Sociological Association (ASA) notified the Commission on the Accreditation of Programs in Applied and Clinical Sociology (CAPACS or the Commission) of the cancellation of the 115th Annual Meeting of the American Sociological Association in San Francisco in August due to the COVID-19 pandemic. For more information, please consult the official ASA conference cancellation statement from Executive Director, Dr. Nancy Kidd.
Event Name: 2020 CAPACS Board Meeting: Commission on the Accreditation of Programs in Applied and Clinical Sociology
Event Date and Time: Monday, August 10; 6:30—10:30 PM
Facility: Hilton San Francisco Union Square (333 O'Farrell Street; San Francisco, CA 94102; Tel: +1-415-771-1400; FAX: +1-415-202-7798; To talk to a hotel expert, call: +1-855-786-4702)
Room Assignment: Union Square Room 9, at the San Francisco Hilton Union Square, Tower 3, Fourth Floor (see floor plan below)
Maps & Directions:
Click here for directions to and from the Hilton San Francisco Union Square and San Francisco's three major airports: San Francisco International Airport (SFO), Metropolitan Oakland International Airport (OAK), and San Jose International Airport (SJC), and other points.
Click here to access ASA's "Travel and Housing" web page and additional links to ASA conference hotels (Hilton San Francisco Union Square and Parc 55); and ground and public transportation options to and from SFO, OAK, and SJC, including Bay Area Rapid Transit – BART, available at all three major airports; and information for international travelers.
Click here to use "ConferenceShare," ASA's online connection service, to contact fellow attendees, find a roommate, share rides, and more. For additional information about "ConferenceShare," please visit ASA's Travel and Housing web page.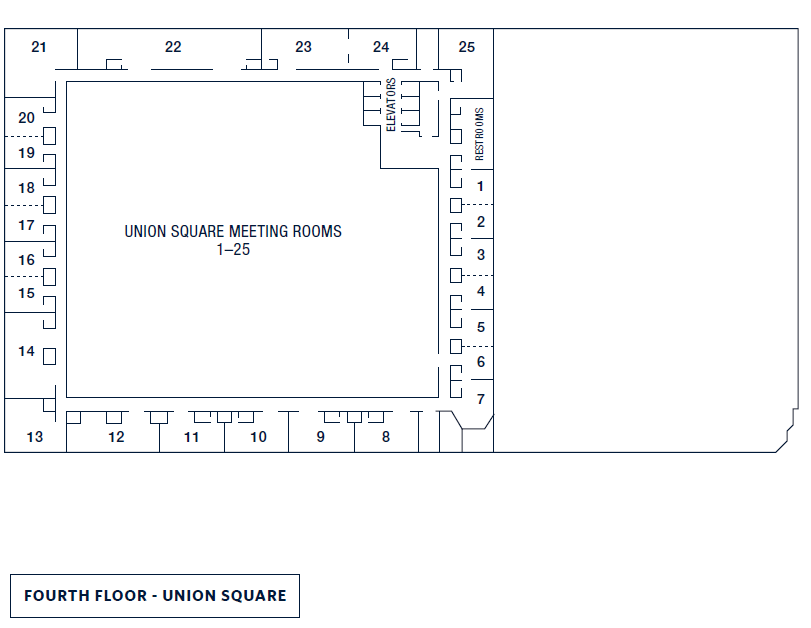 Local Attractions and Restaurants in San Francisco:
CAPACS Display Table
ASA will provide CAPACS with details on table space for displaying the Commission's literature, brochures, and informational materials at the ASA Annual Meeting closer to the conference date. Please bookmark this web page, or return to the CAPACS website, soon, for details.